Akko 3084B Plus World Tour Tokyo R2 Mechanical Gaming Keyboard
Explore the world with your keyboard
The Akko World Tour series is inspired by some famous cities in the world and uses the latest sublimation technology to vividly express the cultural characteristics of the region. The World Tour Series aims to offering products that are more than just writing instruments, they also serve as a bridge for cultural communication and interaction.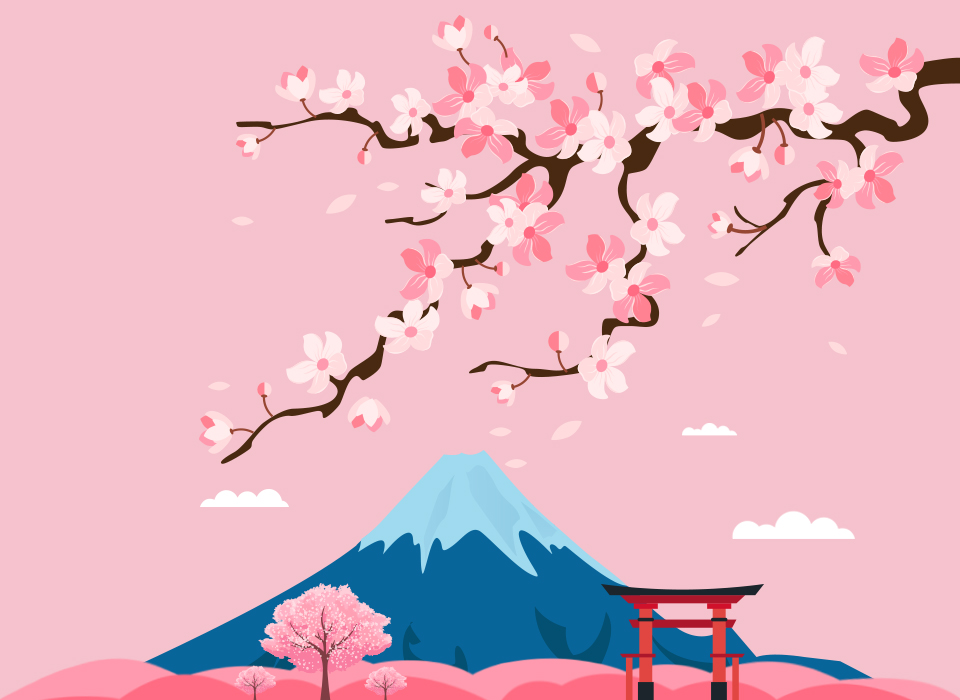 Mount Fuji and cherry blossoms – iconic image of Tokyo
Tokyo is considered more a symbol than a city of modern Japanese culture. Speaking of Tokyo, in addition to popular spots such as Tokyo Tower, Sky Tree, and the sacred places, Mt. Fuji is also famous. Akko designed this World Tour Tokyo keyboard inspired by the beautiful spring scenery of Mount Fuji and cherry blossoms.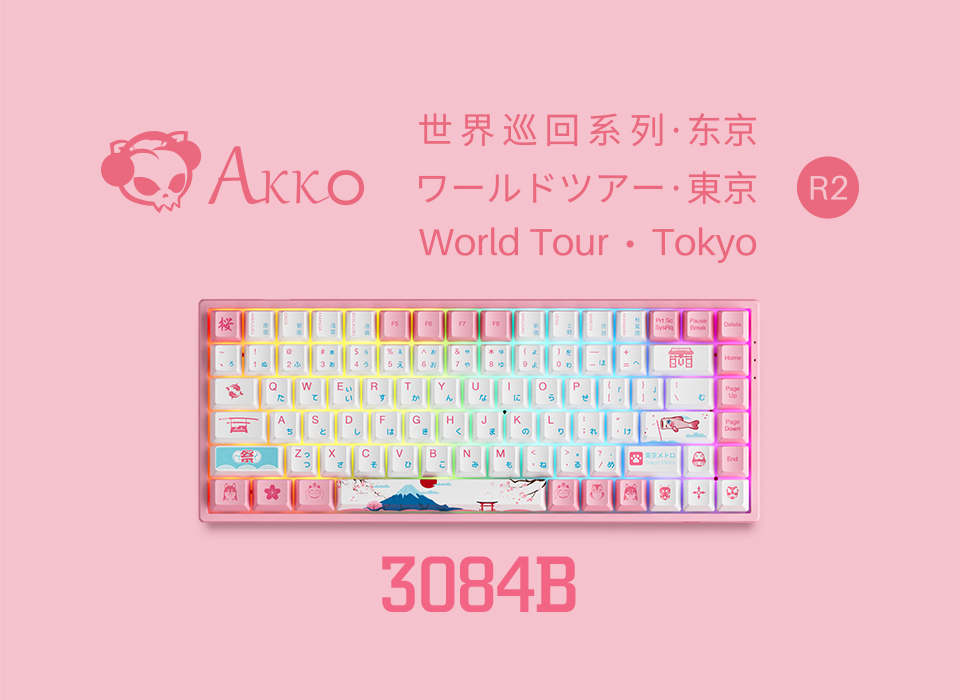 Details of the outlay
The Akko 3084B Plus keyboard covers only 75% layout of a full-size keyboard with only 84 keys, retaining the F area, simplifying the nine function keys, shortening the Shift key and Ctrl key, and laying out the arrow keys into it.
There is no sign on keycaps to remind its functions, but FN key still works with other keys to realize different functions.
The keyboard has an OEM(Original Equipment Manufacturer) layout with a built-in key design, but the bezel is shallow, so the keys are seemly hovering looking from the side. There is a small bump on the bottom of the keyboard that gives it a natural slope when placed on a desktop.
Non-slip design with a long strip of food pad on each corner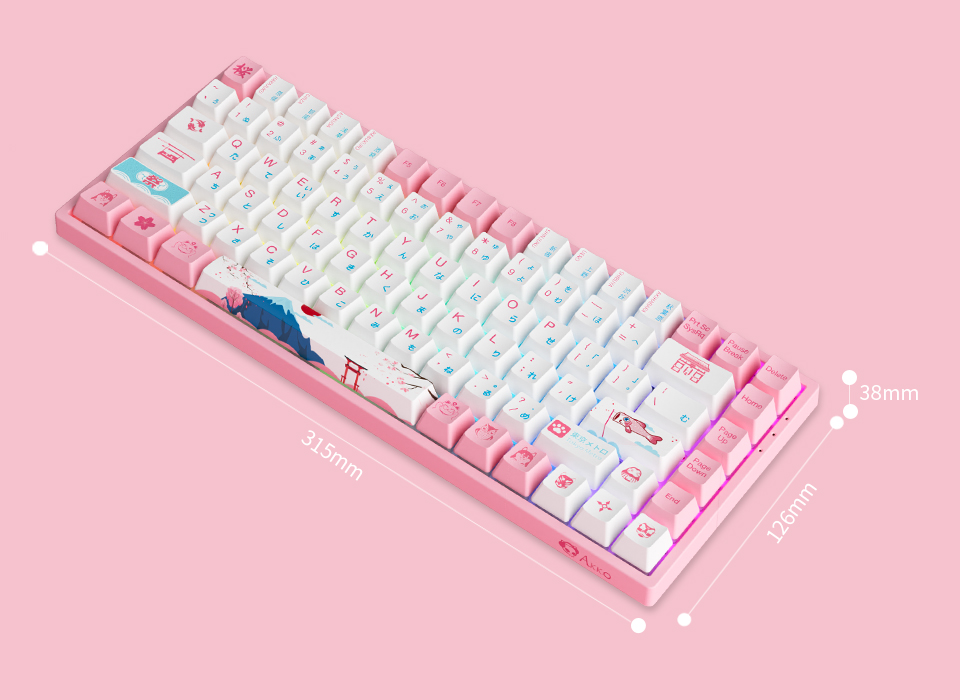 AKKO CS Switch
The feature of the AKKO 3068B Plus is that is also customizable via the AKKO Cloud Driver. The durable AKKO CS series switches we choose are pre-lubed by factory and available in two options: AKKO CS Jelly Pink and his AKKO CS Jelly Purple. The AKKO 3068B Plus keyboard will meet you need whether you prefer a linear or tactile feel.
Keycap
The keycaps are not translucent, but the colorful light can shine through the lines between the keycaps, which are very eye-catching. Users who prefer lighting can choose this keyboard
The keycaps are made of 85% PBT, with moderate keycap thickness and inconspicuous burrs. The keyboard also uses a five-sided thermal sublimation technique, workmanship is close to perfect. If you feel tired of using the same keyboard for a long time, you can also replace the keycaps yourself as you wish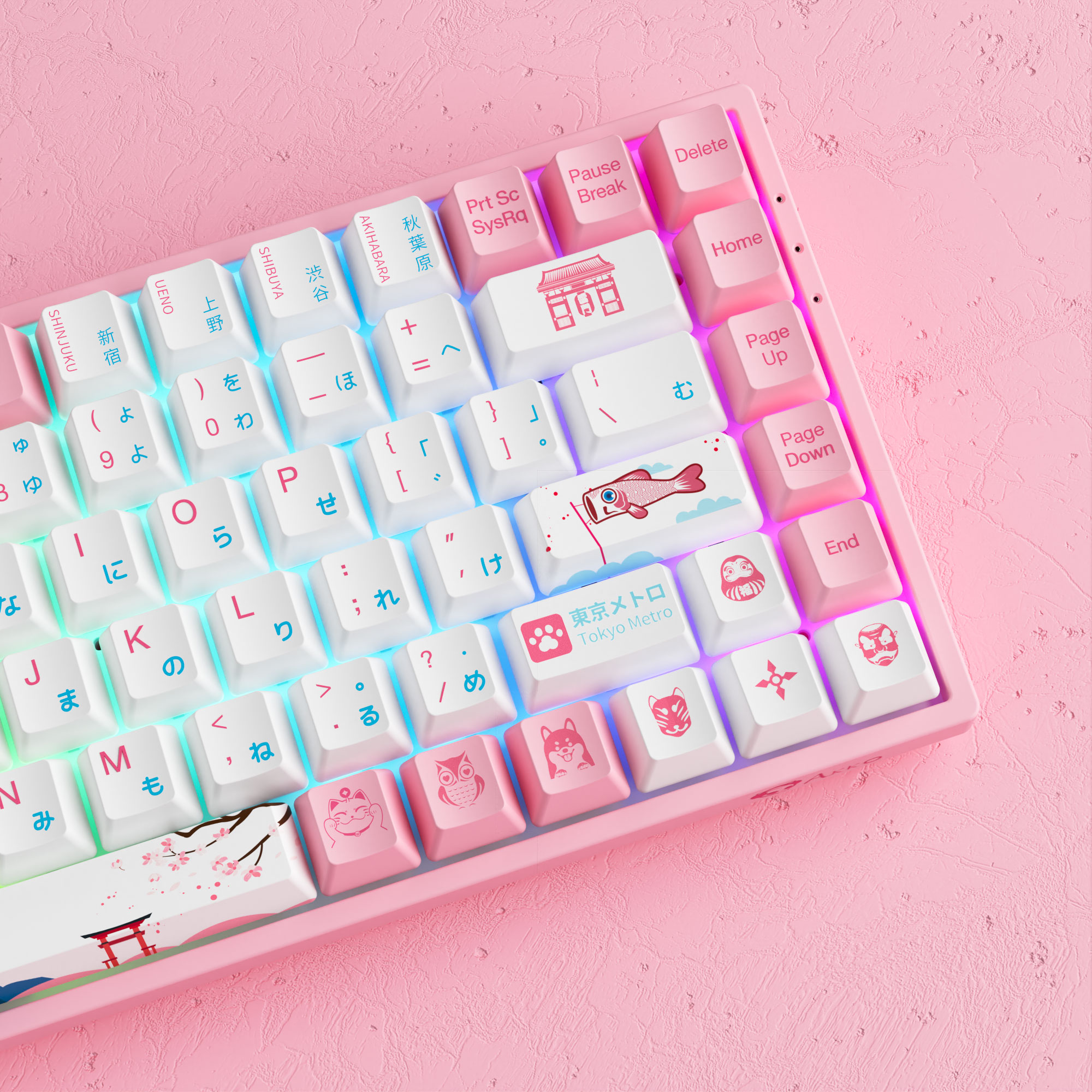 Bluetooth Connectivity
AKKO 3084B Plus World Tour Toyko R2 supports simultaneous connection of three Bluetooth devices. The keyboard has a built-in 1800 mAh lithium battery, which has a 120-hour battery life and standby for 260 days if not used. Under the regular frequency of 4 hours a day, it can be continually used for about a month without charging
When the keyboard is connected to a Bluetooth device, you can see the different keyboard names, which helps users to identify their keyboards.
When traveling, you can connect your phone or iPad to edit your text or write articles
RGB Backlight
The Akko 3084B Plus has an RGB backlight behind each keyswitch. There are totally 20 different RGB modes programmed into the keyboard, which covers the entire RGB spectrum.
Through the Akko Cloud Driver, users are able to switch the speeds and the intensity of the different RGB effects. For people who are into some plain keyboard, it is an optimal choice.
The standard keycaps are mainly gray or black and do not contain a translucent area, which is why the RGB backlight only shines out on the sides between the keycaps

Novelty Keys
Novelty keys or novelty keycaps are keycaps whose purpose is solely decorative. If you feel tired of using the same keyboard for a long time, you can also replace the keycaps yourself. The akko 3084B Plus World Tour Toyko will provide you novelty keys

The Benefits of Hot-swappability
The 3068B Plus is equipped with hot-swappable socket. This means that the key switches, the actual mechanical components of the keyboard, can be replaced without soldering. 
 The Akko 3068B Plus is compatible with all 5-pin key switches. So if you want to change switches in the future, for example from tactile linear to tactile switches, you don't have to buy a new keyboard, and all you have to do is order the new key switches and you can easily swap them out. Even if you are computer illiterate and only want to change the typing feel for a day, just go for it because the conversion is so quick and easy.

One key is malfunctional
2.4Ghz to minimize delay
The keyboard comes with a receiver to enable
the 2.4Ghz wireless mode with comparatively
low latency for gaming and typing.
Bluetooth 5.0
Akko 3068B Plus can connect up to 3 devices
with easy switch of Fn+E/R/T to tablets,
computers and mobile phones.
Wired Mode
It provides an option for users who prefer
wired keyboard with consistent and fast
responses time for FPS gaming and low input lag.
PBT Double-Shot Keycaps
All keycaps are made of thick PBT
plastic and the legends are made
through Double-Shot process, which
is one of the most durable inscription
methods to prevent wear or discolor
with use.
Adjustable Heights
The keyboard comes with a tilted
stand with 3 levels of adjustable heights
(5°, 7.5° and 11° respectively) to
personalize your typing experiences.
Programmable
Support Akko Cloud Driver with periodic
firmware upgrade, RGB & Key customi-
zation including Fn reprogramming-
and Alt + Fn hot-keys (note the program
only works in USB wired mode but the
changes are saved and macro can be
called without the program).
FAQ of Akko 3068B plus
What country is Akko from?
Attsuko Kagari (Kagari Ako) is the principal antagonist of the Little Witch Academia. She is an early-life Japanese witch and Shiny Chariot's admirer.