Akko 5075S/5087S/3084S/3068S Mechanical Gaming Keyboard
Model
There are 4 kinds of models of this series with the different layout of the keyboard
5075S Shine-through Black/White with Knob (75% Layout / 82-Key)

5087S Shine-through Black/White (87-Key)

3084S Shine-through Black/White (84-Key)

3068S Shine-through Black/White (68-Key)
Feature
● Hot-swappable: Equipped with premium hot-swappable sockets, allowing users to swap desirable switches afterwards.
● Anti-ghosting Keys: With N-key rollover (NKRO) feature, the keyboard supports simultaneous key presses without conflicts, which is particularly important in optimizing gaming experiences.
● PBT Double-shot Keycaps of ASA Profile: All keycaps are made of PBT and the legends are made through double-shot process, which is one of the most durable inscription methods to prevent wear or discolor with use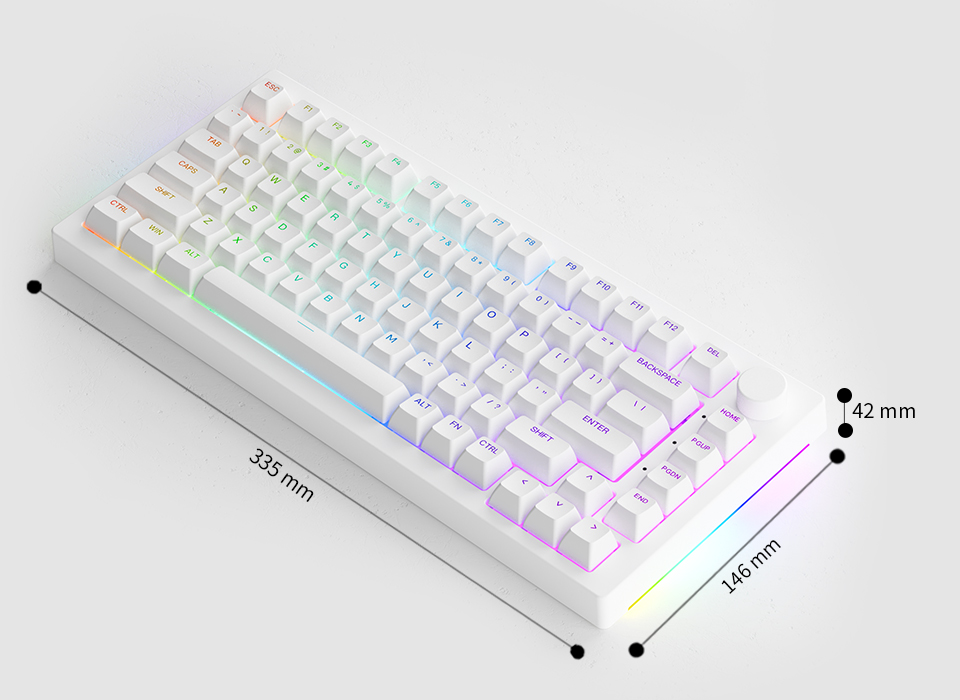 RGB CUSTOMIZATION & KEYS PROGRAMMABLE
Support software (Akko Cloud Driver) with periodic firmware upgrade, RGB & Key customization including Fn re-programming and Alt + Fn hot-keys.
Mechanical Switch with Cherry MX Style
There are three optional switches to satisfy your preference, Jelly Pink Switch, Akko CS Wine Red Switch, and Akko CS Wine White Switch. The former two switches are linear, which can keep a lower noise for office working.
If you do not like the conflict feeling when punching the keyboard, feel free to choose this one. But if you like the sound of clicking and a better hand feeling when you type on the keyboard, you have to choose the purple switch
SHINE-THROUGH KEYCAPS
Shine-through keycaps are translucent, which means they let some light through. They are the perfect way to light up your keyboard and make it look amazing. Not only will this make it easier for you to play the game, but it will also look fabulous. 
5-Pin HotSwap
The Akko keyboards are equipped with hot-swappable socket. This means that the keyswitches, the actual mechanical components of the keyboard, can be replaced without soldering. HotSwap capable keyboards basically have small slots for the contacts of the switches, which will bring a great convenience to the user.

The keyboards are compatible with all 5-pin keyswitches. So if you want to change switches in the future, for example from tactile linear to tactile switches, you don't have to buy a new keyboard, and all you have to do is order the new keyswitches and you can easily swap them out. Even if you are a computer illiterate and only want to change the typing feel for a day, just go for it because the conversion is so quick and easy.
PBT Double-shot Keycaps
All keycaps are made of PBT and the legends are made through double-shot process, which is one of the most durable inscription methods to prevent wear or discolor with use, with moderate keycap thickness and inconspicuous burrs. The keyboard also uses a five-sided thermal sublimation technique, workmanship is close to perfect. If you feel tired of using the same keyboard for a long time, you can also replace the keycaps yourself as you wish

The keycaps are translucent, and the colorful light effects are very eye-catching. Users who prefer lighting can choose this keyboard
Akko Double-shot TPU Plate Mount Stabilizer
The stabilizer comes with POM housing and POM+TPU stems to minimize rattle and ping
The Decomposed Structure of Akko keyboard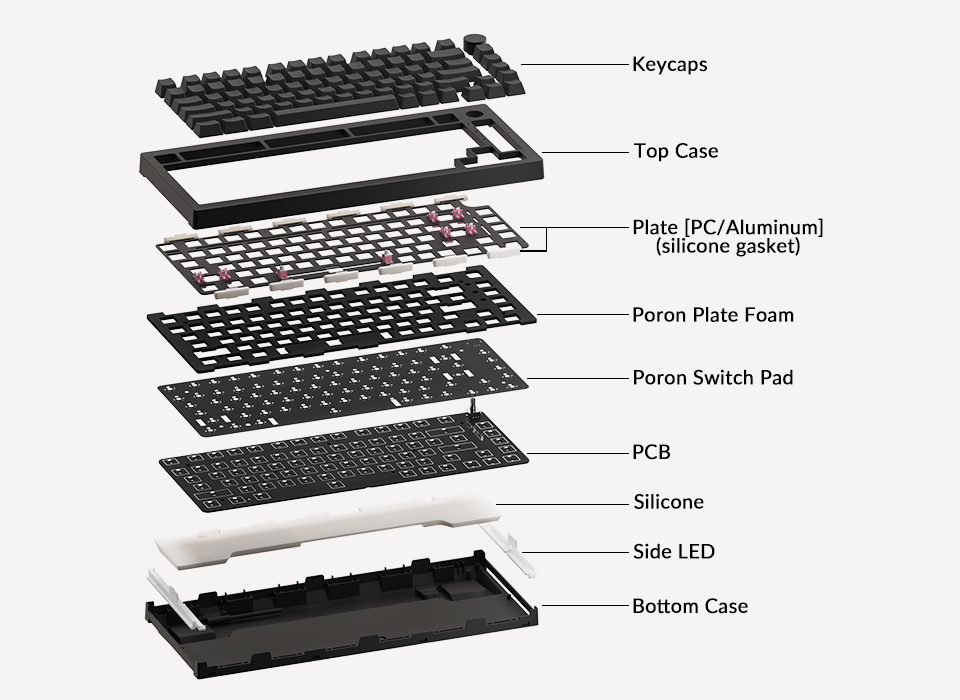 Package Included
Switch Puller

Keycap Puller

USB-C cable

User Manual

Additional Keycaps for other layouts