AKKO 3108 V2 Monet's Pond 108-key Mechanical Gaming Keyboard
The design of the Akko 3087 Monet's Pond keyboard incorporates with Japanese koi and Japanese culture, inspired by the Monet's Pond, a tourist attraction in Japan where koi are seen in a different way.

Monet's pond

tries to make Monet's water lily paintings come to life.

People feel joyful when watching the koi playing in the pond; the koi jumping over Mt Fuji carries meaning of "carp jumping over the dragon gate"; and the traditional Japanese good luck items – Gosho knot, dama and carp flag make the keyboard full of blessings. The classic aqua green color collaboration, with the straw green Japanese character root and the amazing Japanese garden style graphics, makes this keyboard exceedingly fresh and fantastic.
Full-size keyboard, 104 keys
This is a standard full-size 108 keys keyboard with dedicated numpad which for a lot of people is actually very important, especially in a productivity standpoint. This is the most classic keyboard layout, which also means the most comprehensive functionality at the expense of size. For users who need number pad, this keyboard is the best choice.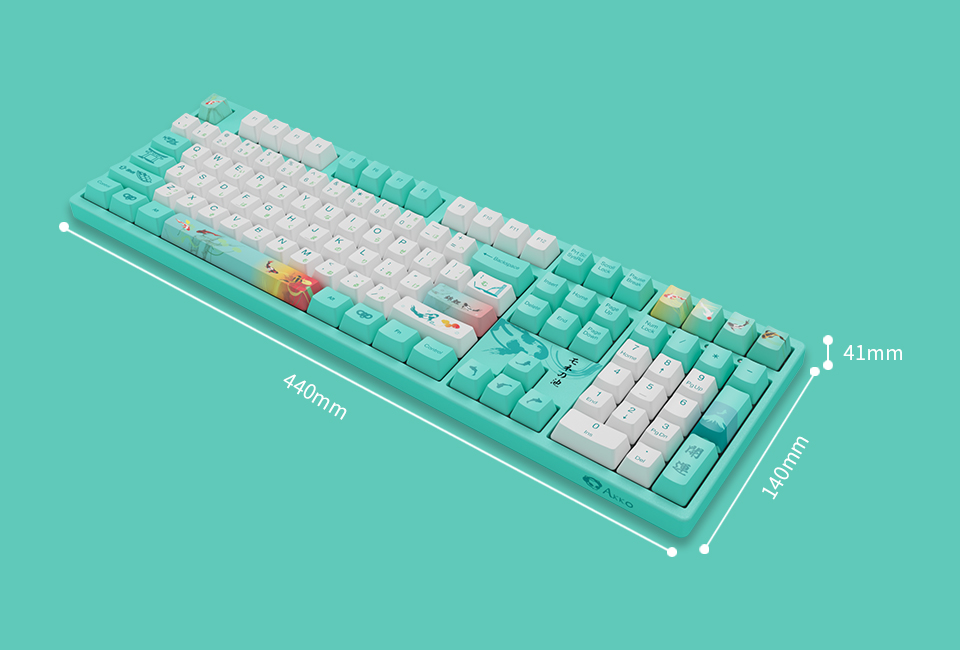 N-Key Rollover
An item that can almost be considered a standard feature these days is n-key rollover. N-key rollover describes the possibility to theoretically press all keys of the keyboard simultaneously without the signals of some keys not being transmitted to the PC. The "n" in n-Key Rollover stands for any number – so you can press as many keys as you like at the same time. For example, on a keyboard with 5-key rollover, you could only press five keys at a time before signals are lost. Useful can be the n-key rollover, for example, for players or players of MMORPGs, where in combat many skills and thus many keys must be pressed in quick succession.
The Akko 3108 Keyboard is designed with n-key rollover, and it supports conflict free, which is a must-have keyboard for gamers.
Macro
Users are able to customize and redefine keys through built-in Macro on all keys (except special keys such as Win and Esc used to exit/enter the Macro mode) to enable quick action sequence for gaming. The 3087 keyboard also includes Windows shortcut keys, which supports Windows system shortcut key combinations, such as media playback, browser, mail, etc.
Type-C Cable and Adjustable Feet
As usual, this keyboard includes a type-C separated cable for wide compatibility and convenient use. Cable and the keyboard can be separated, while the cable has three different ways of lining to meet various needs. Two-stage feet has three different levels of height. You can adjust it as you wish. The ergonomic design is comfortable to use even for long time use.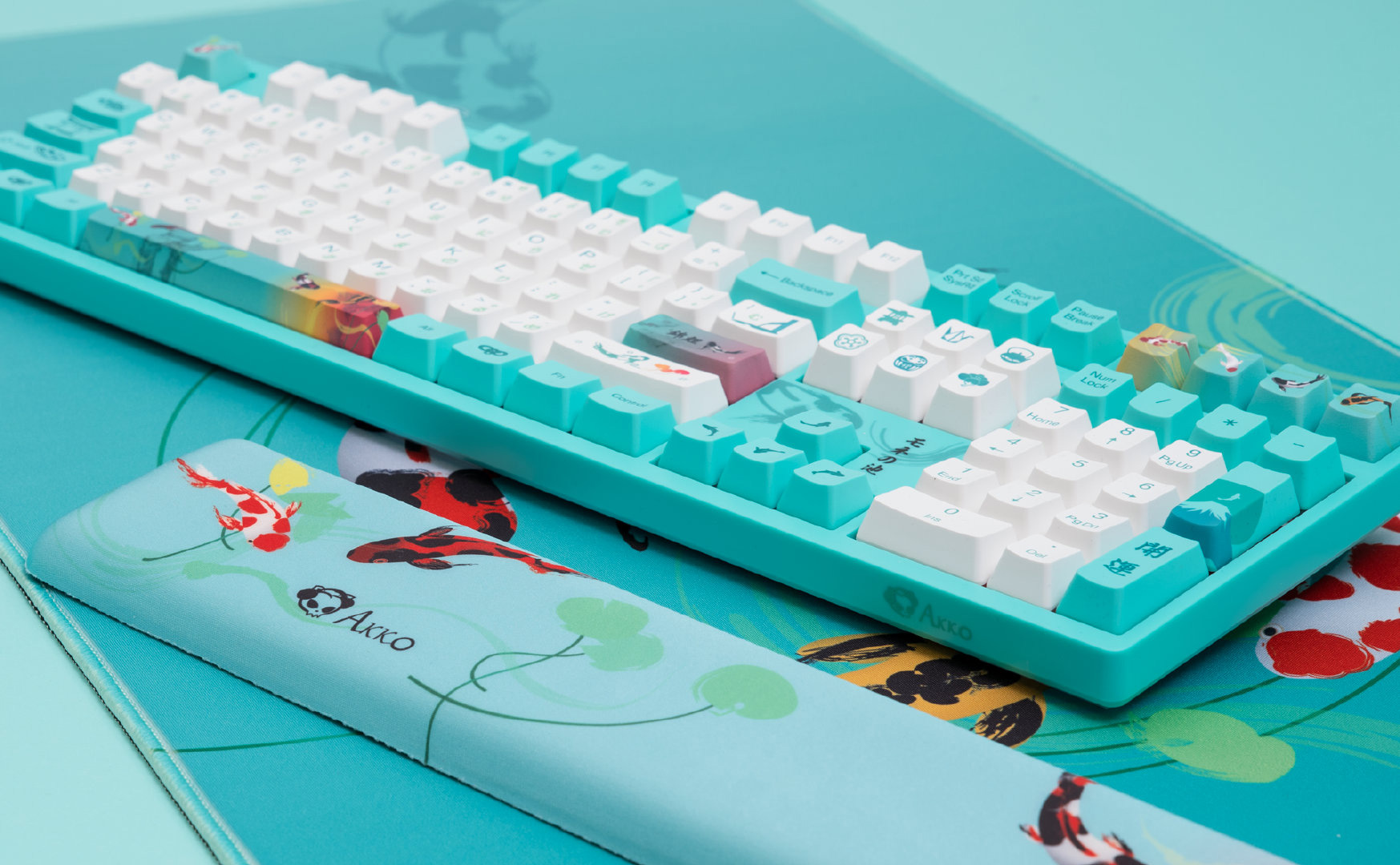 PBT Keycaps & Dye sublimation & Novelty Keys
The keycaps of the Akko 3108 V2 Monet's Pond R1 were manufactured using the Double-Shot PBT process. This is basically the method of production of keycaps recognized as the highest quality.

The 3108 keyboard is printed with Japanese hiragana through the dye-sub process.

Dye sublimation is another process of printing the legends by combining the dye substance into the PBT plastic seamlessly so they will never fade away and you'll barely feel them on top of the keycaps, unlike pad printing.

 

Novelty keys or novelty keycaps are keycaps whose purpose is solely decorative. If you feel tired of using the same keyboard for a long time, you can also replace the keycaps yourself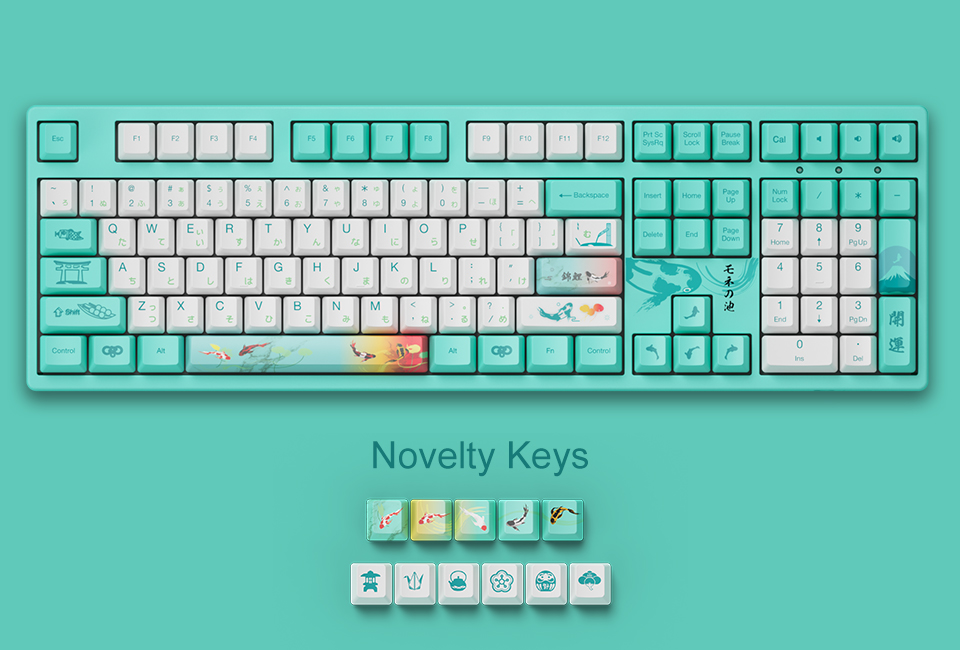 Non-Backlight
The Akko 3087 V2 Monet's Pond keyboard  doesn't have LED backlighting out of the box, since the keycaps are not light-transmitting. If you want to add LEDs in the future, you can do so since it also has slots for a 2 pin LED diode.