AKKO 3087DS Matcha Red Bean Gaming Mechanical Keyboard
The AKKO 3087DS Matcha Red Bean mechanical keyboard is inspired by a unique Asian snack/cake. The combination of matcha and red bean is a classic and popular ingredient that balances bitterness and sweetness. The contrast also creates great visual pleasure with red as decorative color on top of the refreshing and natural matcha green.
Akko wishes to make this keyboard your desktop "dessert" to bring joy and satisfaction over working and entertainment. With the bright color of green and red, the whole appearance is fresh, which guarantees users not to get bored of the keyboard.
About this item
● Keycaps are made of PBT material, not easy to shine as ABS keycaps, and with some extra novelties keycaps to decorate your keyboard. Spacebar and two unique enter keys are processed with dye-sub technology
● Detachable USB Type-C cable, more convenient for your use
● No backlit but reserved the LED position, you could add the LED by yourself
● Free drive AKKO macro V1.0 macro compilation system
● N-key rollover full button no punch, Win button shielding
80% TKL Layout, 87 Keys
For people who need a keyboard for playing games and working, a 80% keyboard is probably a perfect choice. While being compact and lightweight, it is the ultimate tenkeyless keyboard that retains shortcut and arrow keys. It is convenient to be used and suitable for most people.
Type-C Cable and Adjustable Feet
As usual, this keyboard includes a type-C separated cable for wide compatibility and convenient use. Cable and the keyboard can be separated, while the cable has three different ways of lining to meet various needs. Two-stage feet has three different levels of height. You can adjust it as you wish. The ergonomic design is comfortable to use even for long time use.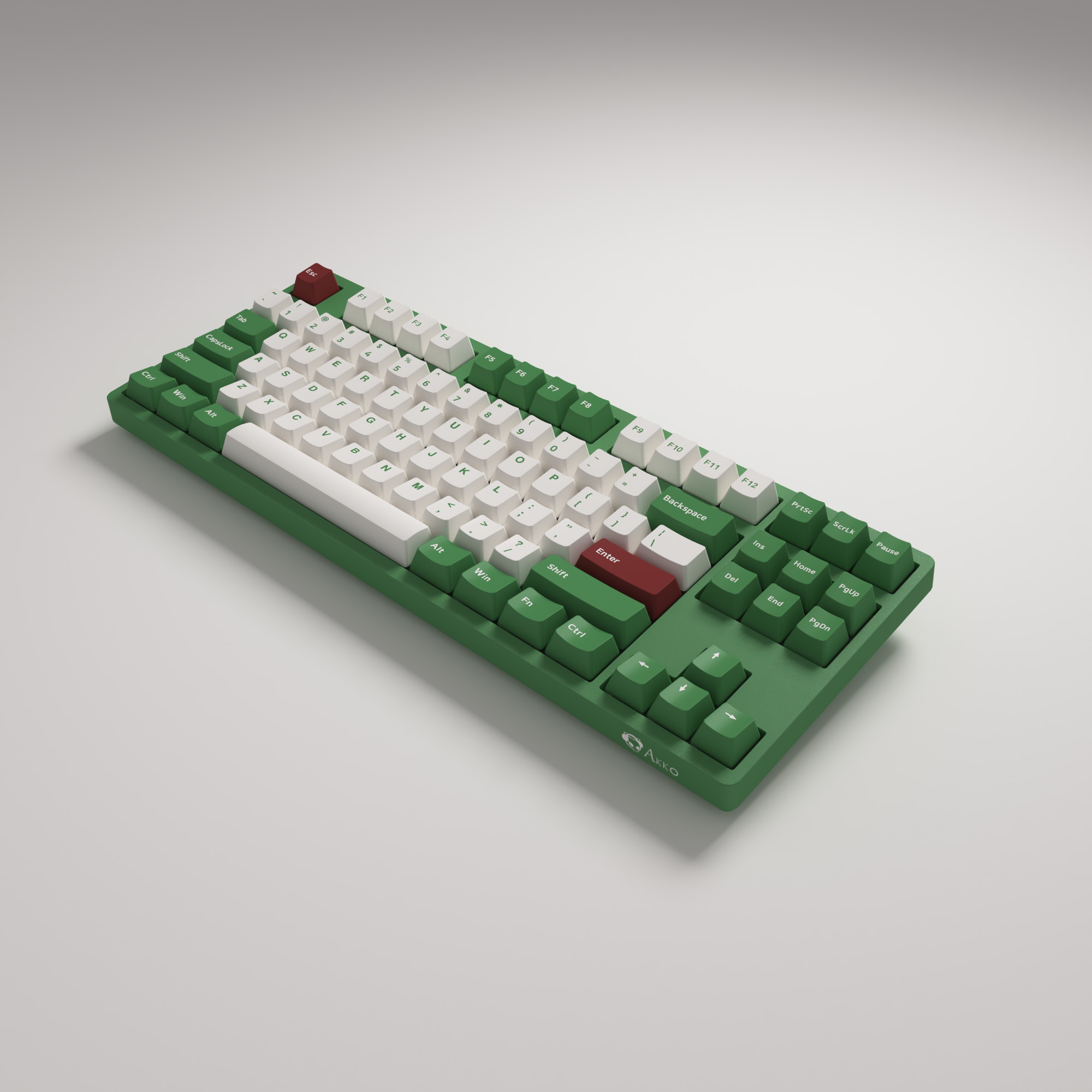 PBT Keycaps
For this model we adopts PBT material of 3087DS Matcha Red Bean keycaps, made through a process of dye sublimation, ensures long lifespan without fading away. With the replacement keycaps, you can fully enjoy the creativeness from AKKO team.
N-Key Rollover
An item that can almost be considered a standard feature these days is n-key rollover. N-key rollover describes the possibility to theoretically press all keys of the keyboard simultaneously without the signals of some keys not being transmitted to the PC.
The "n" in n-Key Rollover stands for any number – so you can press as many keys as you like at the same time. For example, on a keyboard with 5-key rollover, you could only press five keys at a time before signals are lost. Useful can be the n-key rollover, for example, for players or players of MMORPGs, where in combat many skills and thus many keys must be pressed in quick succession.
Features
Programmable:

All keys of the keyboard can be re-mapped to enable action sequences except the ones used for controlling the Macro mode (Esc/Win). The keyboard doesn't come with LED but has built-in LED slots for mod with subsequent customizable light animation.

Anti-ghosting Keys:

With N-key rollover (NKRO) feature, the keyboard supports simultaneous key presses without conflicts, which is particularly important in optimizing gaming experiences.

Efficient cable routing:

The keyboard comes with a pink Type-C interface that fits right in, and features 3-way cable routing for better cable management.

3 Adjustable heights:

Two-tier keyboard stands with 3 different heights, 5 °, 7.5 ° and 11 °, respectively.

The keyboard comes with a tilted stand with two levels of adjustable heights to personalize your typing experiences.